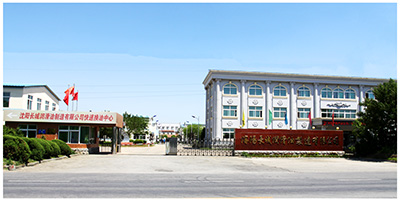 Shenyang Great Wall Lubricant Manufacturing Co., Ltd. was established in 1987, specializing in the production of lubricating oils, special oils and additives. The company is located at No. 4, Hangzhou West Road, Shenbei New District, Shenyang City, Liaoning Province, covering an area of 45,750 square meters and a construction area of 23,450 square meters.
The company has passed ISO9001: 2015 quality system certification, and was rated as "Comprehensive Quality Management Acceptance Qualified Unit" by the Ministry of Agriculture of the People's Republic of China. The credit evaluation center is rated as "AAA-level" enterprise.

The company has advanced and complete inspection equipment, including spectrometer, chromatograph and other element and content detection equipment, high temperature and high shear tester for oil products, shear stability test using tapered roller bearings, diesel nozzles and ultrasonic waves, and cold start simulation method. Low-temperature dynamic viscosity of oil, imported advanced equipment to measure low-temperature Brookfield viscosity of gear oil, rotary oxygen bomb to measure the oxidation stability of oil, etc.
The company mainly produces lubricating oil and lubricating oil additive series products. The product brand (registered trademark) is "Runchi" brand, and the production variety is complete.
Lubricants include engine oil, automotive gear oil, industrial gear oil, hydraulic oil, turbine oil, compressor oil and other series of lubricating oils. The engine oil, vehicle gear oil and hydraulic transmission oil produced by the company are supplied to China FAW Group Corporation for loading and after-sales service.
Petroleum lubricating oil additives include viscosity index improvers, petroleum lubricating oil pour point depressants, gear oil compounding agents and other lubricating oil additives.
The company took the lead in developing and applying ethylene-propylene rubber to produce ethylene-propylene copolymer viscosity index improver (OCP) in China. At present, it produces and sells T615, T616 and other brands with excellent quality and performance. The annual output is 12,000 tons. It is the largest oil company in China National Petroleum Corporation and Sinopec. supplier of viscosity index improvers.
With the upgrading of oil products, in order to meet the needs of the market, through efforts in recent years, the company has independently developed a series of polymethacrylate (PMA) products with advanced technology, safety and environmental protection. The products cover viscosity index improvers and pour point depressants, which can meet the production of various oil products such as internal combustion engine oil, low temperature hydraulic oil, gear oil, industrial oil, transformer oil, etc., with extremely high cost performance. The brands currently produced are SCR-178, SCR-248, SCR-9050, SCR-9138 and other series products. It has been identified as a domestic leading product by the China Academy of Petroleum and Chemical Research, filling the domestic gap. These products have good susceptibility to different types of base oils at home and abroad, and can meet the needs of different types of production.
Our company operates with "quality first, integrity-based", and always adheres to the belief of doing well and becoming stronger, following the concept of "quality first, reputation first, harmony and win-win, and creating brilliant" Hope to cooperate with the majority of users to jointly develop and produce lubricating oil.